Onaqui Rescues
Red Birds Trust Board Member Rescues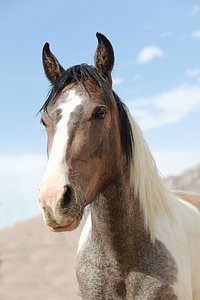 Cheyenne Grace
Unlike the Onaqui rescues, Cheyenne Grace's story in the wild will likely never be known. Because of her brand we know that she was once a member of the Swasey herd here in Utah and as of October 2021 is estimated to be 2 years old. She was captured and removed from the range on July 24, 2020 then adopted to her first placement on September 8th, 2020.
She was then dropped off at the Delta, Utah Wild Horse and Burro facility in September 2021 after her owner could no longer care for her or the other pinto gelding they had adopted at the same time a year prior.
After her return she was temporarily housed with the two geldings in the back of the facility while the 300 Onaqui horses were readied for adoption. Visitors of the facility had no idea she was there and she needed time to put on weight and recover because she was very, very thin and had no foot care whatsoever at her previous home.
As luck would have it, right before a week of closures at the facility the returned Swasey horses were placed in with the Onaqui making them now visible for those who came to visit the Onaqui.
Cheyenne Grace stole the hearts of several volunteers in no time and as with all things in life that suddenly become certain, it became certain to Jen that this very skinny mare with half her mane chewed off but bright, shiny, loving eyes needed to be the final family member of wild horses adopted to live their best forever lives with Jen.
Cheyenne Grace was adopted the very second that the Delta holding facility opened once again for public visitation on October 18, 2021 and on October 20, 2021 she finally came to live in her forever home.
Dreamcatcher
Dreamcatcher was just that – an almost ethereal little curious, loving, patient and kind little colt that was absolutely loved and adored by the yearlings in his band. He was born at the end of March 2021. Red Bird took the role as Dreamcatcher's lead care taker since his dam Marley had her hands full with now two babies – yearilng Little Star and new born Dreamcatcher. Red Bird would groom him, stand guard over him while he slept, and so very gently teach him the beginning lessons of how to stand and play.
Even as a wee one, Dreamcatcher had such a kind, curious nature about him and a quiet confidence which allowed him to carefully expand his horizons further away from his mom than most to meet new horse friends and assess new humans that may show up. While careful, he was never unreasonable about his level of caution and took on new experiences with relative ease.
We'll never know what must have gone through his mind during the July 2021 roundup where at only a little over 4 months of age he was chased by a helicopter with the rest of his band, loaded into a stock trailer and then inadvertently separated from his mom, sister and all the other horses he knew. How this precious little soul slipped through the cracks will never be known, but the second that the Onaqui release happened and Marley and Little Star appeared back on the range without Dreamcatcher alarm bells began sounding far and wide.
Although it was deemed unsafe by the BLM to return him to his mother and sister in the wild after 6 weeks separation in the holding pens, he has finally been reunited with one of the three amigos – Teton – who helped to guide him to being the wonderful little perfect horse he is today.
Dreamcatcher brings nothing but joy to anyone who's fortunate enough to be in his presence and he will be able to live out the rest of his life with Jen, Teton and Cheyenne Grace.
Teton
Teton was born in the spring of 2020 into a band lead by the lovely grey stallion known as Goliath. Teton, Red Bird and Little Star were the three baby mustang amigos of the Onaqui world and were never more than a few feet apart. Little Star was born to mare Marley a tad later that spring, and Red Bird was the last to be born in early fall to a striking grey mare called Misty.
The three amigos were always such a joy to be around! They were constantly trying to test boundaries with Little Star in the lead and Teton as her trusted backup. And never to be left behind came Red Bird bringing up the tail end of the trio trying to be as brave as his two besties. All three babies entered their gangly, fluffy teenage stage as winter began to envelop the west. As spring brought with it warming temperatures and melting snow the babies began to shed their thick winter coats.
Months quickly passed and spring turned to summer all the while the three amigos grew and grew. And as luck would have it Marley had become pregnant by a handsome, brawny roan stallion somewhere along the way and she gave birth to a little baby bay colt who would become known as Dreamcatcher. The three amigos doted and fawned over the newest addition and while Red Bird stood guard while Dreamcatcher lay soundly sleeping under the summer sun, Teton began exploring further from home finding friends in nearby bands to practice his sparing, tussling and grooming.
Teton has lived up to his name turning into a mountain sized gelding, but despite his size he never lost his sweetness or gentle heart. There was absolutely zero question when the news of his capture and transfer to the Delta facility became known that he would be adopted and brought home to join Jen's expanding fur family and stay safe in the West Utah desert where he'd been born and raised a short distance away.
Kona and Esme
These two young ladies' silent journey started when they were removed from the range in the September 2019 roundup. As fillies, The Utah Wild Horse and Burro facility in Delta facilitated their first adoption only to be returned in 2021. Little is known about Kona and Esme's story or what they may have been through.
Once again, they found themselves back in a BLM holding pen in Delta among 300 other Onaqui Mustangs from the July 2021 roundup. Both were in a side pen quietly counting their days as potential adaptors came to visit the more well-known mustangs.
Alisa was introduced to Kone and Esme during a visit to the Delta holding facility in October. Kone is a deep brown bay and Esme is a chestnut sorrel with white hind socks. They have simple beauty, an old soul, and a young spirit. It did not take long for Alisa to realize that they were the true reason she made the trip to Delta. Their soft eyes and the slight brush against Alisa's hand with their nose gave her the sense that they didn't need rescue but were asking for a chance.
On December 23, 2021, Alisa adopted Kona and Esme. Finally, they could complete their long journey to their forever home and have a chance to live a life as a horse that is loved.
The following rescues have graciously opened their arms to our Onaqui horses.
We hope that everyone who loves them will follow along with their journey and support their caretakers in giving them the best possible future.
Wild Heart Sanctuary, Park City Utah
https://www.wild-heart-sanctuary.com/
Grace (Mare) & Bliss (filly) North HMA Leilani (baby filly) in the South HMA Giraffe (pinto mare) South HMA

Dreamchasers PMU Rescue & Rehabilityation (GFAS Accredited), Falcon Missouri
https://www.dreamchaserhorserescue.org/
Denali & her colt Mystique Hope (left) & Whinney (right) Potter (right) and colt Hedwig Polyanna (buckskin mare)
Clover from the South HMA
Lifesavers Wild Horse Rescue, Langcaster California
https://wildhorserescue.org/ All geldings pictured below were older, sale authority geldings at high risk who were adopted by Lifesavers to allow them to live their lives safely and freely
Engler Canyon Ranch, Colorado
https://englercanyonranch.com/
Dotty (mare) South HMA
Sparrow South HMA
Evander North HMA
Stetson South HMA
Dalia - North HMA Mare
Copper (R) & Nickel (L)
Tess (born in BLM facility)
Little Red (L) & Grandma (R)
King North HMA Stallion
Princess & 7258 (sorrel)
Princess, Dutchess & Tess
7275
Bootes Dotty, Sparrow & mare 8127
Mustang Journey, Cincinnati Ohio
Adam from the North Onaqui herd Spirit from the North Onaqui herd
Paradise Dreams Sanctuary
https://paradisedreamsanimalsanctuary.com
Essence from the South HMA Sonnet (mare) from North HMA Astreus from the South HMA Faith (mare) from South HMA
Armani from the North HMA Faith from the South HMA Quinn (foal) from the North HMA

Sakari & her foal born after adoption
Esperanza & her foal born after adoption
Sweetbeau Horses
Whiskey River tag #7853 Bowie tag #7959 Windwalker tag #7882 Traubadour tag # 7956
Tavish tag #7937 GQ tag #7920 Snickers tag #7922 Bandero tag #7886
Sundance tag #7359 Stetson tag #7404

Peacemaker tag #7361

Ghost tag #7357
Bandit tag #7358 Bentley tag #7585